Holy crap, what a year! This was my most accomplished year so far as a photographer, in terms of travel, photography, and new projects. It seems like I rarely had a moment's rest, and indeed, I spent about half of the year on the road. Exhausting and frantic, but incredible fun, and I wouldn't have changed a thing. So if you'll indulge me I'd like to share with you the highlights of my 2016.
January 2016
Having moved to the ski town of Mammoth Lakes in late 2015 I decided I was going to learn to love the winter. As part of that effort I took a winter mountaineering skills course in January in order to feel more comfortable in the backcountry in the snow. And while the course itself had nothing to do with photography, it opened up doors to journeys and adventures in the mountains in the future. Can't wait to see where those skills will take me and my photography.
February 2016
Here's where the traveling began. My buddy, Scott, is a white water rafting guide and for a few years he spent the North American winters down in Chile, guiding on the Futaleufu River. He had extended an open invitation to me so in February I decided to take the opportunity to visit him and do some rafting, but also to explore the northern reaches of Chilean Patagonia. My sister also came along, which was exciting as it was her first international trip.
Patagonia is truly as spectacular as everyone says, and though my limited time meant I couldn't get to the popular and dramatic south, I was able to spend quality time in the very northern part of Patagonia. My time there was highlighted by a demanding but lovely 4-day trek through the forests and mountains of Cerro Castillo National Reserve. Think glaciers, jagged peaks, azure rivers, and lenticular clouds and you'll get the idea.
March 2016
In March I found myself back in California, albeit briefly. However, during the few weeks I was home Death Valley's incredible superbloom occurred. October 2015's insane rain and flooding set the stage and provided the perfect kind of moisture for millions of wildflowers to bloom once spring rolled around. I was fortunate to visit for a weekend during the peak of the bloom when both the flowers on the ground and the clouds in the sky put on a spectacular show.
April 2016
As spring continued to develop in the north hemisphere it was time for me to travel to the southern to visit one of my favorite places on Earth: New Zealand. Jim Patterson and I were there to lead a 12-day South Island Photography Workshop, and I used the opportunity to create a 6-week photo safari for myself. The workshop kicked things off in gobsmacking style, with some of the best conditions I've ever experienced in NZ. Rainbows, reflections, electric sunrises, god rays…you name it, we shot it!
After the workshop ended I was fortunate to meet a wonderful traveling partner in the form of a French ultra runner named Jessica. We spent the next 3.5 weeks traveling the South Island together getting into all kinds of adventures, the highlights being a cruise through Doubtful Sound, and an ill-timed trip to the Mueller Hut in Mt Cook National Park, where we got stuck for three days during a blizzard and ultimately had to be rescued by helicopter. Those three days held some frightful moments, but also some breathtakingly gorgeous ones.
May 2016
In late May I returned from New Zealand and was able to spend a few quiet days at home enjoying the Eastern Sierra, some late spring snowboarding, and a few local photo outings.
June 2016
My summer kicked off with a whirlwind of domestic trips. First was a visit to the Palouse region of Eastern Washington for another workshop. It was my first time in the area and I was completely floored. I typically don't photograph man-made landscapes but the rolling ag fields of the Palouse are utterly mesmerizing.
After our workshop in the Palouse I headed east and made my first visit to Glacier National Park in Montana. This place is stunning, and that is an understatement. I was invited to the park by Fusion Network to help them produce a short video about climate change and the national parks. Once the shoot was wrapped I met up with my friend Elisabeth and we trekked out on a couple of fun backpacking trips through Glacier's jaw-dropping scenery. It's safe to say it's a park I'll be visiting again.
July 2016
In early July I was back home for a few weeks and I took advantage of the downtime to head out on a few pack trips into my beloved Sierra backcountry. The first was up Big Pine Creek, to the Sierra's largest glacier, the Palisade Glacier. It's one of the few places in the Sierra where the lakes contain glacial milt, and as a consequence their green color has to be seen to be believed.
A week later my sister and I made the leg- and lung-burning ascent to Sailor Lake in the Sabrina Basin, high above Bishop, California. The mosquitoes were as numerous as I've ever experienced in the Sierra, but so were the stars, so everything balanced out.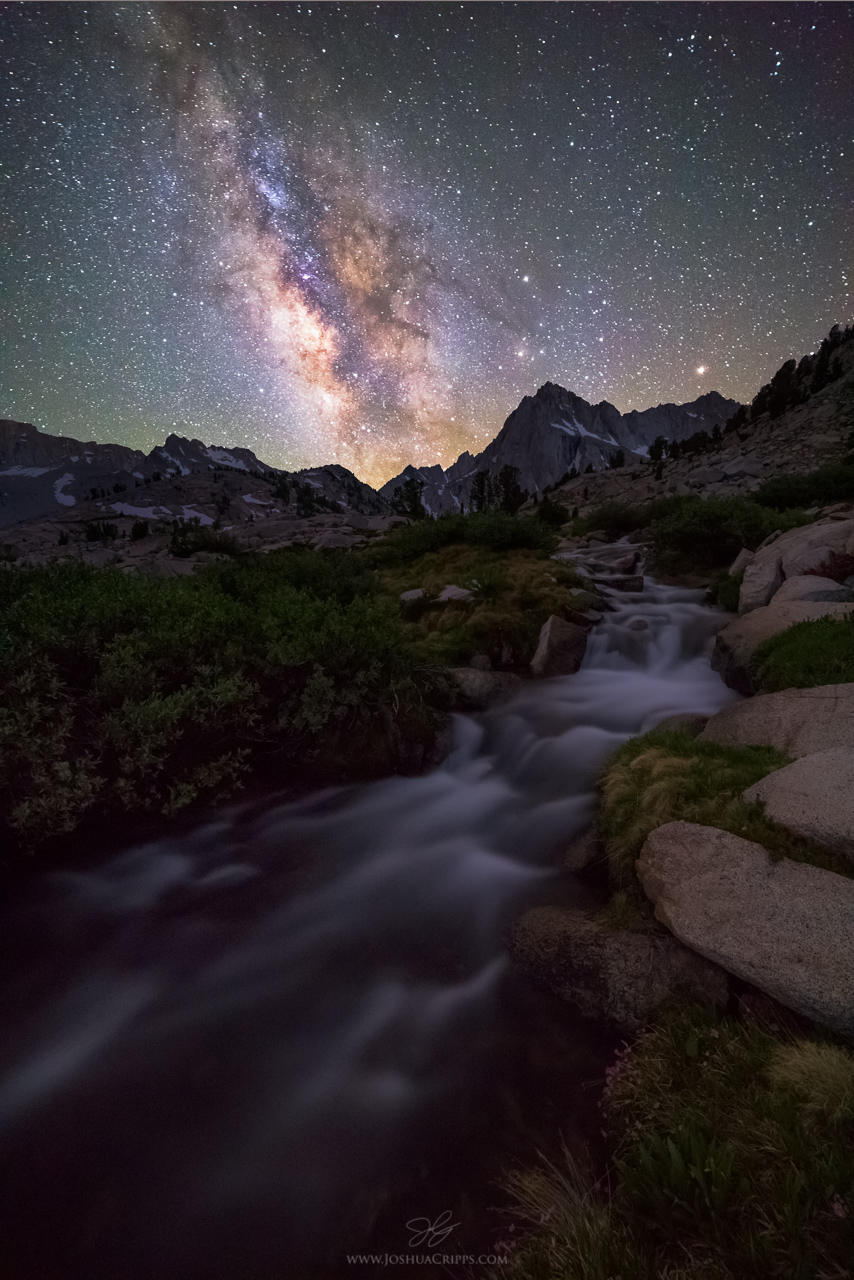 In the second half of the month I flew to Europe to explore one of my long-time travel dream destinations, the Dolomites in Italy. This section of the Alps is a magnificent array of mountain spires and the scenery is remarkable everywhere you look. In addition, access is incredibly easy in the Dolomites, meaning with a few short walks it was possible to be in breathtaking mountain cathedrals.
August 2016
In August I continued my trip in Europe, but shifted the focus away from photography and towards being social. I was able to meet up with friends in Italy, Croatia, Hungary, Germany, and the Netherlands. And finally I made my way to France to reconnect with Jessica, my traveling partner from New Zealand. Together we journeyed into the Pyrenees and climbed Vignemale, the highest peak in that range.
September 2016
I spent the entire month of September at home in Mammoth Lakes enjoying some down time, working on some projects behind the scenes, and going on local excursions. I was honored to be asked to speak at an Instameet at the beginning of the month, and at the end of month I completed a climbing objective of mine and stood atop Cathedral Peak in Yosemite National Park.
October 2016
We kicked off October with another workshop, this time in the Eastern Sierra, chasing fall color.
Then immediately after the workshop wrapped, I packed my bags and headed for Utah. My friend Julia had planned a SW trip (all the way from Hungary!) and had invited me to go along. It was my first time back to Utah in over five years and I was excited to see all that red rock again. We both wanted to visit areas we hadn't been to before and consequently ended up doing some technical canyoneering in Zion (replete with freezing cold water), some backpacking in Escalante, and some back road driving in Capitol Reef. The trip was varied, incredibly fun, and sensationally beautiful.
At the end of October I visited Photo Plus Expo for the third time to see old friends and make lots of new ones.
In October I also launched my newest passion project, the Nature Photography Academy. It's a place where photographers can access the absolute best photography and post processing video courses in order to really gain a deep understanding of what it takes to produce beautiful landscape imagery.
November 2016
In early November I led a small workshop in that most beautiful of parks, Yosemite. Despite the chronically sunny skies we found an incredible abundance of things to photograph, and were treated to at least one nice light show.
Then in the middle of the month I was able to head back to Utah for a commercial shoot. As a landscape photographer I rarely am hired specifically to shoot, so this was an incredibly exciting opportunity. I can't share any of the project details yet, but hopefully within the next month or two I'll be putting up photos and stories about the shoot.
December 2016
And that brings us all the way to the end of the year! Jim and I had one last, fun-filled workshop in Death Valley, a park I grow to love more every time I visit it. And that's pretty much all she wrote, aside from a few local shoots here and there.
I'm exhausted now just writing about and remembering this year. I can't believe I actually got to live it as well. I'm endlessly grateful for the wonderful experiences I had this year, for the people I met, the friends and family I spent time with, and for everyone out there who's supported me as a photographer. I hope your 2016 was amazing, and that your 2017 will be even better.
Until next time, be excellent to each other, and party on, dudes!
~Josh