New Zealand South Island
Glaciers and Fjords Photo Tour
August 31 - September 13, 2022
New Zealand. Aotearoa. Land of the long white cloud. No matter what you call it, New Zealand will leave you speechless with the beauty of its mystical fjords, pristine beaches, and glacier-carved mountains. Join five other adventurous photographers on the trip of a lifetime through the dramatic landscapes of New Zealand's South Island. From the stunning grandeur of Milford Sound and the soaring peaks of Aoraki National Park to the unreal blues of Lakes Pukaki and Wanaka, this 14-day New Zealand Photography Tour will provide photographic opportunities on an epic scale. The photography will be incredible, the scenery breathtaking, and the memories will last a lifetime.
What's new for this tour:
On our last New Zealand Photography Tour we added an overnight cruise through Doubtful Sound, one of the most remote and wild places in the world. This rare and unique experience was a lifetime highlight for many of our participants, and more than a few of us were crying with joy at the beauty of this special place.
But I began to think, how can we make our next NZ trip even better??? And the answer was really simple: why drive to Milford Sound when we can FLY THERE! That's right, we've added another scenic flight that takes you over the most beautiful terrain in the world on the way to Milford Sound.
That means this trip includes two scenic flights, two stunning boat cruises, wine tasting, and more cute baby sheep than you can count. Plus, we've included every single breakfast during the tour (amazing ones at that), even cooler accommodation (our first night we will be staying at New Zealand's only castle), and a few other fun surprises.
On top of all of that we're also doing more for conservation this year. We're donating a portion of the trip proceeds to two environmental causes: The first, Give Back Nature, plants trees. And we fund enough tree planting to ensure the trip is not just carbon neutral, but actually carbon negative. Second, we are funding efforts to remove a highly invasive weed from Fiordland's waterways, helping keep New Zealand's wildest corner as pristine as it's meant to be.
So join us for 14 days, 13 nights of incredible photography, delicious food, and fantastic company.
Tuition includes:
– 14 days of photography in arguably the greatest landscape destination on Earth
– 11 nights lodging in 4- and 5-star hotels
– Transportation in a private coach starting in Dunedin and returning to Dunedin
– 2 jaw-dropping scenic flights over Aoraki Mt Cook National Park and Fiordland National Park
– Stunning boat cruise through Milford Sound, the 8th wonder of the world
– Unforgettable 2-night, fully-staffed and catered boat trip through mystical Doubtful Sound
– Welcome dinner
– Breakfast everyday
– Unlimited delicious Kiwi snacks like fresh fruit, nuts, cookies, Tim-Tams, crackers, and water
– Special surprises along the way
– A small, intimate group of 6 photographers (plus your guide)
– Memories to last a lifetime
Sold out! A few spaces may come available in April 2022. Please contact me to get on the priority announcement list.
Secure your spot with a $2865 deposit.
Josh Cripps – Lead Guide and Chief Sand Fly Squisher
Josh has been visiting New Zealand since 1998 and cumulatively has spent over a year of his life traveling through, exploring, and photographing this amazing island nation. He even lived for a short time in the far north town of Kaitaia. He's been chased by seals at Arnott Point, eaten the best whitebait sandwich in the country, and explored ice caves in the west coast glaciers. Josh thinks New Zealand's South Island is quite possible the most beautiful chunk of land on the planet and relishes every minute he spends there.
Fiordland
Part of a UNESCO World Heritage site, Fiordland National Park comprises over 4,800 square miles of glacier-carved fjords and sounds, deep river valleys, and rugged peaks. One of the high points of Fiordland, Milford Sound, has been called the 8th wonder of the world. From a deep, tranquil bay Mitre Peak rises straight up over a mile high to present a truly breathtaking view. Abundant precipitation and sheer-walled mountains create two powerful year-round waterfalls and hundreds of ephemeral ones.
Aoraki / Mt Cook National Park
An instructor favorite location, Mt. Cook / Aoraki National Park showcases beautifully braided rivers, iceberg-dotted lakes, and more than 70 named glaciers, including the Tasman Glacier, the country's longest. It's also home to New Zealand's highest peak, Aoraki Mt. Cook, which rises nearly two vertical miles from the surrounding plains. But for all its ruggedness, Mt. Cook National Park is highly accessible, and a few short tramps will put us in position for prime photography.
Queenstown and Wanaka
Near Queenstown we will find glacial valleys, vast lakes, and steep mountains. Here the opportunities for breathtaking photography are limitless.
Wanaka is a land of rolling hills, pastures, and idyllic scenes. Not to mention an enormous, gorgeous lake, alongside access to tremendous scenery in Mt. Aspiring National Park.
Otago Peninsula & Moeraki Boulders
We start our trip on the east coast of the South Island, at Larnach Castle on the Otago Peninsula. This peninsula is a land of endless rolling hills and pastures.
Just an hour north you'll find the supremely cool Moeraki Boulders: gigantic spheres of rock that litter a stunning, reflective beach.
2 Scenic Flights
On this trip you will enjoy two spectacular scenic flights. The first takes us around the Southern Alps, encircling the two highest peaks in New Zealand, and landing on New Zealand's longest glacier.
Our second flight will take us from Queenstown over Lake Wakatipu, and into Fiordland National Park. There's no more impressive way to experience the grandeur of this wild landscape.
Deep Water Fjord Excursions
The climax of the trip is surely the last three days. We start with a short boat cruise through Milford Sound, taking in thundering waterfalls and towering cliffs.
Then we move on to Doubtful Sound, where we spend two nights aboard the Fiordland Navigator, wandering through this mystical corner of New Zealand.
Who is this Photo Tour for?
This New Zealand South Island photo tour is for upbeat, adventurous photographers who appreciate a wide array of landscapes and scenes. If you love intimate details of ferns as much as grand landscapes, then this trip is for you. There is a wonderful range of subjects and scales to explore through the South Island of New Zealand, and photographers open to all kinds of different shots will find great joy on this trip. The focus of this trip is glaciers and fjords, so expect to see lots of stunning mountains, rivers, ice flows, lakes, waterfalls, and fjords.
Experience Level
This tour is for photographers of all experience levels, from pros to novices. That being said, you will get the most out of this trip if you understand the basics of exposure and composition. 
One of the most important things you can do to prepare is to know your camera. Understand how to change the settings, how to zoom in to 100% on Live View and on Playback, and how to quickly access the histogram and menus. When the good light is changing rapidly, simply knowing how to work your gear quickly and efficiently will set you up for success.
Group Dynamics
This is a group trip, and morale is a key factor to everyone's enjoyment. Our favorite kinds of photographers:
– Roll with the punches and go with the flow.
 
– Respect people from different backgrounds and different styles of shooting.
 
– Can laugh when Mother Nature throws a monkey wrench into the plan.
 
– Look for reasons to be excited about the landscape, regardless of the light or conditions. New Zealand is a world-class location for photography, no matter whether it's totally overcast or blazing blue skies. Photographers who are fixated on "epic light and clouds" are going to miss out on a lot of beauty. So be open to the opportunities in each moment.
If this describes you, we'd love to have you aboard this tour. Negative, complain-y, or high-maintenance "everything needs to be my way" photographers need not apply.
In short, this tour is for anyone who wants to explore and photograph stunning scenery with a fun group of like-minded people. The trip is limited to 6 participants for a small, personal feel. 
About New Zealand's South Island
Photographers will find NZ's South Island to be a land of stunning beauty and wonderful photographic opportunities. The landscapes are dramatic, varied, and accessible. We will photograph marvelous glaciers, soaring snow-capped peaks, breathtaking fjords, lush rain forests, and rugged coastlines. On top of the scenery itself, the light in New Zealand is truly mesmerizing. The weather in New Zealand is constantly changing, and interacting with the country's unique geology in a way that produces absolutely beautiful conditions. While this is not a guarantee of anything, I will say that I've seen more double rainbows in New Zealand than everywhere else in the world put together. 🙂
In addition to the photography, you will find New Zealand to be a charming country that's easy to explore. The Kiwis are an extremely friendly people who are in love with their wonderful land. Prepare yourself for incredible scenery, stunning photos, and memorable experiences with our New Zealand photography tour.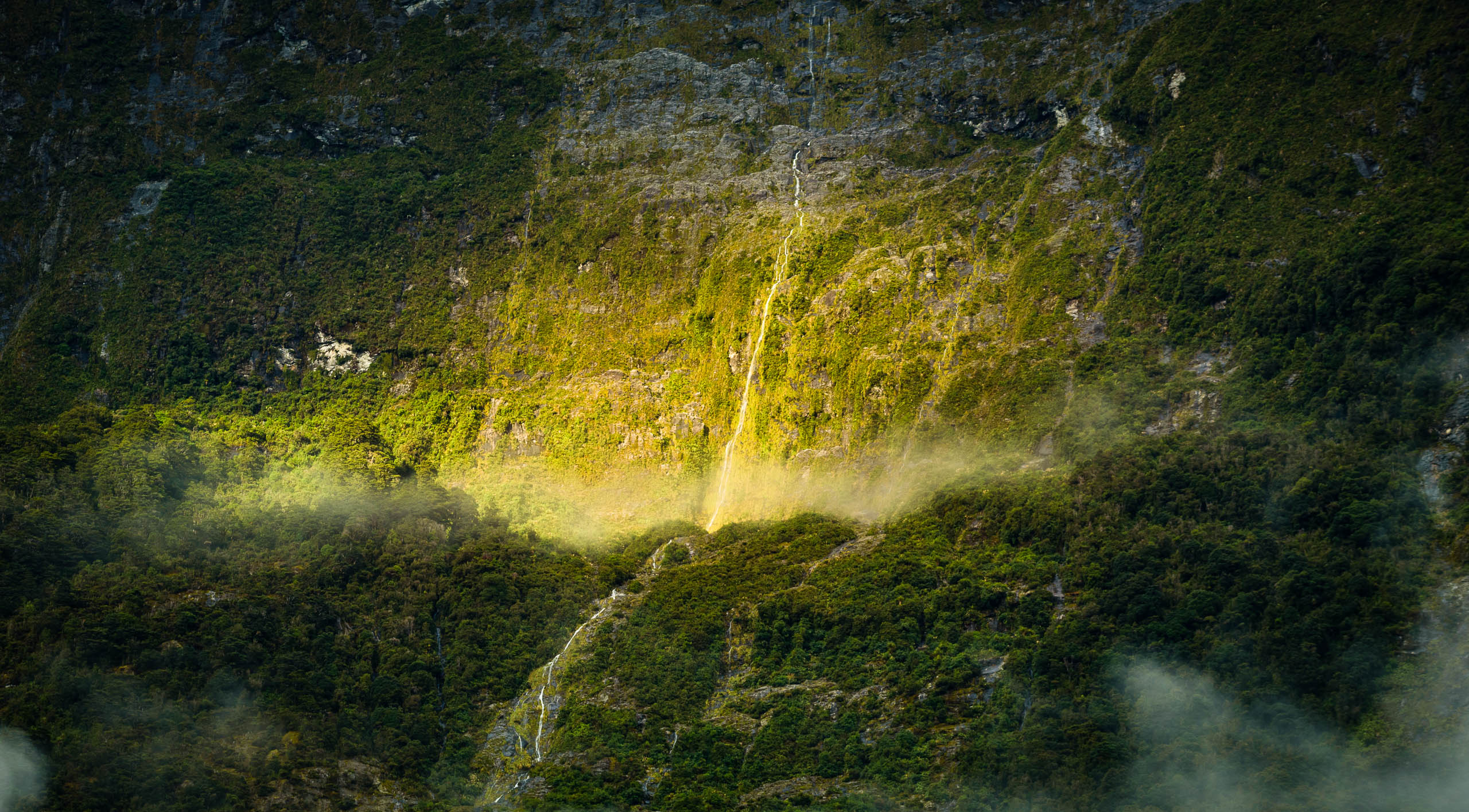 Fitness and Physicality: Low-Moderate, 4/10
This New Zealand photo tour is appropriate for photographers of most fitness levels. You should have good balance and mobility. Hiking is minimal, perhaps only 1-2 miles total each day. However, in Aoraki / Mt Cook National Park you should expect walks of up to 30-45 minutes (with +/- 500 feet elevation change) each way to reach certain shooting locations. 
Walking in the mountains can be strenuous at elevation and we recommend preparing for the trip by walking at least a few miles per week leading up to the tour. All participants are expected to carry their own camera, personal gear, and water during the tour. 
The average age of our past participants is 50 – 70 years old.
What's the difference between a photo tour and a workshop?
This is a photo tour, meaning that we are focused on getting you to the right places at the right times to create amazing images. We don't have any boring lectures, and we don't force you to learn the latest complicated processing techniques. This trip is about having the best possible experience in New Zealand's stunning South Island. That means in addition to shooting we are also enjoying meals together, learning the history of these areas, and allowing for down time so that you can stay rested and excited. We set a relaxed pace during the tour so that you will enjoy each day, rather than feeling exhausted, burned out, or mentally fatigued. This trip is FUN, not boot camp.
We are here to help, without overwhelming you.
In the field Josh is always available to answer questions, provide guidance and feedback, and give you ideas of how to approach your photography. In short, if you have questions I'm here for you. At the same time, it's important to avoid spending every field session cramming your brain full of as much photography knowledge as possible, as this only leads to overwhelm and an inability to retain anything.
Josh will also be shooting photos during the trip, both to provide examples and ideas, and so that you can see the scene through his eyes, get inspiration, and learn about his approaches to photography.
Got Questions?
If you have any questions about the tour experience, let us know!
A Typical Day
5:45 am – meet in the hotel parking lot and drive 15-30 minutes.
6:00 am – walk 15- 30 minutes over good terrain to our shooting location.
6:30 am – arrive on location 30 minutes prior to sunrise and begin exploring and shooting.
7:00 am – sunrise.
8:00 am – wrap up morning shoot, and walk back to the coach.
9:00 am – breakfast (included).
10:00 am – check out of hotels as applicable. 
Midday – lunch, rest, import photos, optional talks on approaches to landscape photography, transportation between locations.
2:00 pm – check into hotels as applicable.
3:00 pm – leave for afternoon shooting session. Drive 30-60 minutes.
4:00 pm – hike 15-45 minutes / 1 mile over good terrain.
4:15 pm – arrive on location 2 hrs before sunset to explore, see the landscape, and shoot.
6:30 pm – sunset.
7:00 pm – wrap up afternoon shoot, and return to the coach.
7:30 – 8:00 pm – arrive back at hotel for dinner.
—
Note that these times are given as a general sense of what to expect. Exact meet times, drive times, and hiking distances will vary day to day. Some drives are as short as 5 minutes, some are as long as 60+ minutes. Some hikes are 2 minutes, some are 45 minutes. We do our best to spread out the long drives and hikes, but we always let the conditions guide us to the best spots each day.
Tour Itinerary*
Our itinerary is organized to visit some of the most spectacular locations on the South Island. The tour is 14 days total: 12 shooting days bookended by an arrival day and a departure day. We'll set a relaxed pace on the trip, with emphasis on shoots during the golden hours of sunrise and sunset, with breaks in the middle of day for meals, optional side-trips, or transit between hotels. NZ is a small country and most of our hotel locations are a 3-4 hour drive apart. 
Day 1, Arrival Day. August 31st.
Arrive in Dunedin. Meet at the Larnach Castle for orientation, introductions, a relaxed evening shoot, and a delicious kick-off dinner prepared by the castle chef.
Days 2 – 13. September 1 – September 12.
Our tour follows a rough counterclockwise loop out of Dunedin, first heading up to the iconic Moeraki Boulders for a sunset and sunrise. Next we'll set off for three nights at Mt. Cook National Park, where rugged mountains and milky-blue lakes dominate the landscape. We'll enjoy glacier-sculpted scenery from easy hikes in the park as well as our own, private flight-seeing tour and glacier landing. 
Next we will venture to Wanaka for two nights to enjoy the incredible scenery and hospitality of Wanaka and the Matukituki Valley. Sheep, wineries, elegant trees, delicious food, and massive lakes are on the itinerary for this stop. We will have a planned rest day in Wanaka. Then it's a short drive to our next location of Queenstown, where we are staying for 2 nights. This hip city is in one of the most beautiful locations in New Zealand, with towering peaks, glacial valleys, picturesque lakes, and other secret finds within easy access. 
After Queenstown we'll enjoy an epic scenic flight into one of the most incredible parts of New Zealand: Fiordland National Park and Milford Sound. There we will spend two nights drinking in the spectacular scenery of New Zealand's largest national park, both by land and by a cruise through majestic Milford Sound. Then we'll head to Manapouri for our 2-night journey into Doubtful Sound, an experience that will leave you breathless.
Day 14, Last Day and Departure. September 13th.
On our last day we finish our Doubtful Sound cruise by noon, then return to Dunedin between 5 and 7 pm. Hotel this night is not included. We recommend planning your flight for the next day. Bid your new friends and fellow photographers goodbye and reminisce about an awesome tour.
*all times and dates in this itinerary are given for New Zealand in September, which will be GMT+12. When making flight bookings, please make sure the date you arrive in Dunedin coincides with our itinerary. We reserve the right to revise this itinerary at any time. For detailed trip information please contact me.
Getting to the tour
This New Zealand photography tour meets and disbands in Dunedin, the second-largest city on New Zealand's South Island. Participants are responsible for their flights to and from the Dunedin Airport, the local transfer to our first hotel, and the local transfer back to the airport once the tour has finished. If you are staying in Dunedin prior to the tour, we will arrange pickup to get you to Larnach Castle, our kickoff point.
Transportation during the tour
Transportation is provided throughout the tour, from our first hotel until our return to Dunedin. Transportation during the tour will be in a comfortable, private coach capable of holding the entire group plus our photo gear and luggage. Everyone will have two seats for themselves: one for you, and one for your camera bag.
Lodging
The tour includes 13 nights of high-end hotel lodging throughout the South Island. By default everyone has their own room during the tour (with the exception of the Doubtful Sound cruise where we double up due to space constraints). Double occupancy may be available for a slightly reduced price.
Wi-Fi and Cell Coverage
Wi-Fi, while widely available, is slower than in many Westernized countries. We will generally have access to Wi-Fi at our hotels but expect that it may not be available everywhere. In Fiordland it is basically non-existent. In some places there may be a fee to access the internet.
Cell phone coverage is generally good, except for Fiordland.
Camera Gear You Should Bring
– Digital SLR or Mirrorless Camera
– Lenses. We highly recommend you have the following four lenses (or equivalent) to take advantage of the wide variety of scenes you will experience:

– Ultra-wide, such as a 14-24mm or 16-35mm
– Midrange, 24-70mm
– Short telephoto, 70-200mm
– Long telephoto, 100-400mm or 200-500mm

– A sturdy tripod
– Comfortable camera backpack you can hike up to 1.5 miles with
– Filters (10-stop ND, 6-stop ND, Polarizer recommended)
– Remote shutter release
– Rocket blower and shammy cloth, lens/sensor cleaning fluid, lens wipes, sensor swabs
– Extra batteries, charger, and memory cards
Recommended Clothing and Items
Due to variable conditions, we recommend bringing multiple layers of non-cotton clothing, like Merino wool, fleece, or synthetic fibers. Light colored clothing is recommended as mosquitoes and sandflies are attracted to dark colors. Specifically you should bring: 
– Base layers for top and bottom
– A warm jacket and pants
– A windproof rain jacket
– A warm hat and gloves
– Lighter layers for warm days, like a sun hoodie or long-sleeved sun shirt
– A wide-brim hat and sunglasses
– Wool or synthetic socks
– Sturdy footwear that you don't mind getting dirty or muddy. Lightweight hiking boots or hiking shoes are recommended for most outings.
– A large water bottle and sunscreen
– Flashlight or headlamp
– Trekking poles
September is early spring in NZ and marks the beginning of New Zealand's transition from winter. Days will be mild and nights may be cold. Kiwis often claim their country can experience all four seasons in a single day, so participants on this tour should be ready for a variety of conditions from rain and snow to warm sun. 
Average temperatures at this time range between 35°F lows and 65°F highs (2°C – 18°C). Temperatures throughout the South Island will be relatively similar, with perhaps +/- 10°F (+/- 5°C) differences.
TOUR TUITION – $8,595 USD
A 33% deposit of $2,865 USD is required to reserve your spot. The balance is due 4 months before the tour. Payment can be made via check, bank transfer, credit card, or PayPal. Payments made via credit card / PayPal incur a 3% fee.
Costs in New Zealand
New Zealand is a western, tourism-driven economy, and high travel costs should be expected. Currently the New Zealand dollar is worth about 70 cents US. Conversely, a US dollar is worth about $1.40 NZ. To help you plan your trip, here are some sample items and their cost in NZ dollars:
Coffee – $4-6 NZD
Fish and Chips Takeaway– $10-20 NZD
Burger and Fries – $15 – 25 NZD
Chinese / Indian Takeout – $25NZD
Large Pizza – $35 NZD
Steak – $35 NZD
Beer – $4-9
Breakfast every day and plentiful snacks are included on this tour. Your total daily budget for additional meals could be anywhere between $30 and $80 NZD depending on your choices.
– An incredible tour of some the most photogenic sights of the incomparable South Island of New Zealand
– Quality, professional photography guiding and instruction on par with your level as a photographer
– All transportation during the tour
– 11 nights of comfortable lodging at 4- and 5-star hotels
– All Department of Conservation concession, entrance, and permit fees
– Milford Sound boat cruise
– Doubtful Sound 2-night fjord cruise
– Mt Cook Scenic Flight and glacier landing
– Scenic flight over Milford Sound
– Welcome dinner
– All breakfasts during the tour
– Lunches and Dinners on the Doubtful Sound cruise
– Delicious, endless snacks throughout the tour
– Secret surprises along the way
– A fun, positive, interactive learning environment
– A small group size of 6 photographers maximum
– Memories of a lifetime
– International Airfare to New Zealand
– Domestic transport / airfare to Dunedin
– Transfers from Dunedin city center to/from Dunedin Airport
– Lunch and dinner on Days 2-11
– Personal items, souvenirs, passport/visa fees as applicable, and gratuities
– Optional activities
– Trip insurance
HELPING MOTHER NATURE THROUGH PHOTOGRAPHY
Fully Insured and Permitted, Leave-No-Trace Advocates 
We take pains to ensure our activities are 100% above board. We obtain all the necessary permissions, certifications, and insurance required in order conduct our tours.
We are also strong advocates of Leave No Trace (LNT) wilderness ethics. We teach responsible photography practices and never sacrifice the environment for the sake of a photo. Our goal is to leave our tour locations in better shape than the way we found them.
TO REGISTER FOR THIS TOUR
1) Fill out this 1-minute registration form
2) Once you complete the form you will be taken to the deposit payment page.
Cancellation and Refund Policy
Deposits are non-refundable. Additional payments toward your balance are fully refundable up to 120 days before the tour. If you withdraw from the tour and we are able to fill your spot, we will refund your payments (including deposit), less a $200 administrative fee and any discounts given to fill the space. If we cancel this tour for any reason, your entire tuition fee will be transferred to another tour or refunded to you at your discretion.
We strongly recommend purchasing trip insurance to cover your costs in case of cancellation or withdrawal. If you have a personal emergency such as a medical emergency or a death in the family, please contact us. We are willing to work with you to reschedule or refund your fee on a case-by-case basis. This tour requires a minimum of 5 participants. In the case of under-subscription we reserve the right to cancel the tour, in which case your registration will be transferred to another tour of your choosing. Or we may conduct the tour with a single instructor. 
COVID-19 Policy
We will take all reasonable precautions to help prevent the spread of COVID-19. These precautions may include:
Requiring all participants to be vaccinated against COVID-19.
Requiring all participants to obtain a negative PCR test prior to the tour.
Pre-workshop temperature checks, with subsequent checks every 3 days.
Wearing face masks when social distancing cannot be maintained.
All precautions will be finalized approximately 1 month prior to the tour and you will be notified. Photographers joining this tour acknowledge that we can not mitigate all risks with regard to COVID-19.
This policy will be updated as CDC, WHO, Federal, and state guidelines change.
Safety Policy
We take safety very seriously and have developed a complete safety plan that is in full compliance with New Zealand standards and best practices for Alpine Hiking and Tramping. You can view the safety plan documents here: